by Amy-Mae Elliott via @Mashable
In this day and age, many are working from home, and if you do, you owe it to yourself to set up a proper office space. It's vital you have somewhere to concentrate that's separate from your home life — and is hopefully a nice space to spend time in. A good working space is even more important if you operate your small business out of your home.
To help you out on this rather specific front, we have pulled together some useful tips from experienced home-workers and chatted with home office expert Lisa Kanarek, founder of WorkingNaked.com. Also keep in mind that having a home office can entitle you to certain tax breaks, so your investment can end up right back in your pocket.
SEE ALSO: The Best Ways to Have A Successful Work Day
Whether you're just getting started working from your abode or are a home-working veteran, take a look through the slideshow of useful advice. Share your tips with the Mashable readership in the comments section below.
1. Choose the Right Space
"Decide if your home office would be better off in another room. When you first started working from home, may have set up your home office in an obvious place: a spare bedroom, guest room or basement," says Kanarek.
But there could be a better place. "If you rarely use your dining room or formal living room, consider setting up shop in one of those rooms," she adds.
If you work from home full-time, you're going to be spending as much time in your office as you do in the rest of the house. Don't treat your working space as a second-class accommodation — give it the importance it deserves.
One important consideration is ensuring you can switch off when you're not working. For this reason, it's advisable you can shut the door on your office and "leave" work.
Kanarek also advises trying out spaces before deciding exactly where you're going to be working.
"Watch out for a home office space that initially seems ideal but turns out to be too hot or too cold, too noisy or too quiet. Avoid moving your equipment, furniture and supplies several times by trying out your new home office space for one month."
"That should give you enough time to decide if you've picked the right place to set up shop."
2. How About a Stand-Up Desk?
With the news in that sitting down all day will kill you, if you're creating your home office from scratch, why not consider a stand-up desk?
A new office and working setup is the perfect time to make a dramatic change to how your work, and it might just save your life.
3. Consider Your Corners
If you're sticking with a traditional desk set-up, then think right angles, advises Kanarek.
"Consider using an L-shaped arrangement because of the two work surfaces. Don't waste the corner … it's the ideal place for a copier or printer. It's out of the way but within reach."
4. You Deserve a Throne
"Avoid using a backbreaking, pain-inducing, kitchen chair and replace it with an ergonomically correct office chair in a patterned or colored fabric," says Kanarek.
We concur. Pain from bad working posture, and in worst case scenarios, repetitive strain injuries, are no joke.
Save money where you can, but spend as much as you can afford on a decent chair — your back will thank you for it.
5. You Can't Have Too Much Storage Space
A cluttered workplace is depressing. Your best bet for having a clear desk and tidy working environment is to have a place for everything.
"Add shelves above or next to your desk to gain more storage space and to reduce desktop clutter. You can use open shelves or a hutch that sits on your desk to increase your storage space."
"A tall, four-shelf bookcase — ideally with adjustable shelves — can hold dozens of books and reference materials," says Kanarek.
In addition to open shelving, consider solutions like attractive storage boxes for bits and bobs that would look messy out in the open.
6. Good Lighting Is Crucial
In addition to your space's existing lighting, do invest in additional sources of light to make your workspace brighter and more inviting.
Task lighting for your desk area is essential, and even a couple of smaller lamps for mood lighting will make a difference.
In addition to helping you avoid eye strain, light can improve your mood — just think what a difference some cheerful lamps will make when the winter nights draw in.
7. Think Tech
When you're setting up your space, don't underestimate how many sockets you'll need for your various tech items.
Just a PC, monitor, printer, phone and camera can soon see you juggling power spots. Invest in some decent, surge-protected extension leads that you can run around the room to where you need power most.
Also think about investing in a Wi-Fi printer, which can be kept further away from your computer.
Consider good-looking charging stations for smaller gadgetry that will still look attractive away from your main desk area.
Finally, don't let cable clutter ruin the aesthetic of your office. There are some really attractive solutions available that will keep your wires neat and tidy.
8. Don't Neglect Your Walls
"Go for function, but don't forget about style," says Kanarek.
"The right window treatments, flooring and art you display can change the look and feel of your home office. Don't forget about personal touches, including family photographs, gifts from friends or family, or a souvenir from your last trip."
It doesn't have to cost the earth to decorate your office. Visit thrift shops and flea markets for quirky, vintage pieces or indulge in some DIY creatvity.
Etsy is a great source of fun and affordable art for your walls. If art isn't your thing, stick up a few light-hearted geeky posters or consider a series of text-based screenprints, such as the ones in the image — these start at just $9.
A cheap pinboard can be made fun as well as functional with some photos, mementos and other bits and bobs, while a blackboard (or a DIY version using blackboard paint) is great for notes and doodles.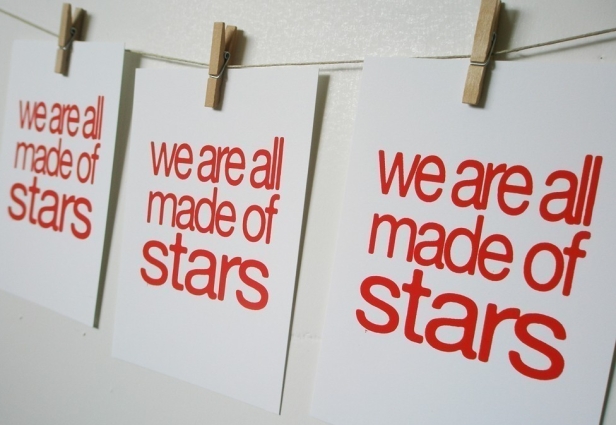 9. Get Some Greenery
It's been proven that plants in the workplace can reduce stress levels and increase productivity.
Aside from these health benefits, plants are an inexpensive way to transform the look and feel of a room.
If you're not naturally green-fingered, then consider easy-to-care-for house plants, such as cacti, succulents, palms, ivy and heck, even a few spider plants will add a touch of nature to an office space.
10. It's Never Too Late For a Makeover
If you're reading this thinking that you'd like to improve your home office space, then why not just do it? It's never too late to start again with your home office design, layout and looks.
With a bit of hard work, some reorganization, a pot of paint, a few well-chosen accessories and one weekend, you could see your working space totally transformed.
It's easy to let things get stale and boring. If a change is as good as a break, a quick office makeover could be just what you need to reinvigorate your home-working life.
BONUS: Don't Forget Your Furries!
If you're lucky enough to have furry friends, don't neglect them when it comes to your home office space.
A second basket for a dog or a place to perch for a cat is well worth building into your office design. After all, pets reduce stress — something we could all do with in a work environment.
And if you're looking for specific solutions to make your pets really feel at home in your office, then there's a Kitt-In Box desk attachment for small furries, and even designer "DenHaus" furniture with built-in beds for big ones.