If you missed our recent webinar "Connecting Sales and Finance with Integrated CRM," we understand. We know your schedule is packed full of meetings, calls, and work everyday, and we wanted to be sure to provide some resources to those of you who wanted to attend but were not able to.
"Connecting Sales and Finance" explored the reasons that Sage 100 users move to enhance their existing system by adding CRM. Our Brad Burnes, longtime CRM expert, showed the power of CRM to help sales teams organize their day and not let any good leads or follow up activities slip through the cracks. The home screen of SugarCRM below shows the sales dashboard, where in an instant a salesperson can organize and prioritize his best opportunities and know where he stands on his numbers.
SugarCRM Dashboard
CRM also has benefits for company leadership, who have access to graphs and dashboards (below) to see where performance is strong and where they may need to step in and help.
SugarCRM Dashboard Charts
And anyone in the business can benefit from having the complete customer view from one system. The complete account view as shown below gives you all the information you need about your customers, and you can quickly see all activity, purchases, communication, documents, and more – making it easier for everyone on your team to provide quick, efficient, and accurate service to your customers.
But what about integrating these capabilities with ERP? What does that mean, and what does it look like?
When data flows back and forth between ERP and CRM, a few things happen:
Sales teams benefit from seeing customer sales history, orders and inventory from ONE place. Quotes are more accurate and flow automatically into ERP as orders when they are closed.
With access to sales pipeline info, finance, accounting and operations have more visibility into what's coming down the pike in regards to revenues and business.
Finance benefits from not having to reconcile real business numbers to sales forecasts to get an idea of Projections and REVENUES – the most important thing in the business.
Support and service sees ALL customer activity in one place, quickly and easily so providing great customer service is easier.
Our whitepapers The Benefits of Integrating Sales to Finance and Integrating Your Sage 100 System with CRM explain more about these and other benefits of greater visibility, clarity, accuracy and certainty in making decisions in your business.
Here are a couple of graphics to illustrate the data flow:
When ERP data flows to CRM: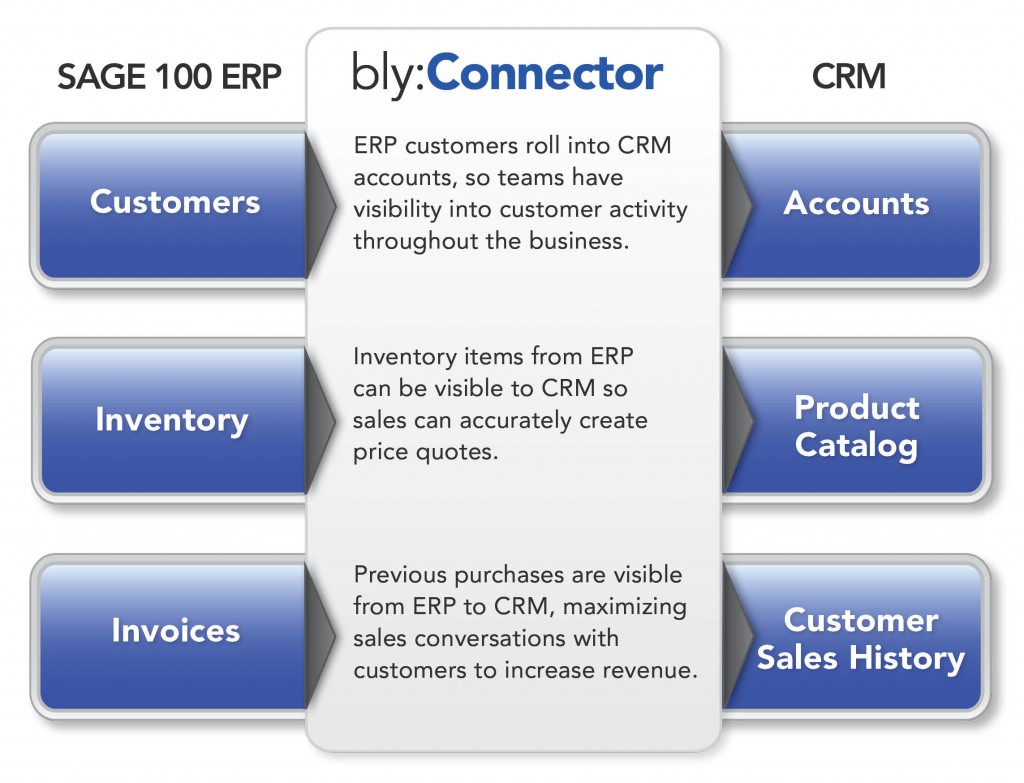 ERP data flows to CRM
When CRM data flows back into ERP:
CRM data flows to ERP
We then showed a demo of the integration at work in SugarCRM and SageCRM. We'll be releasing a video of this demo soon – stay tuned! But why did we feature these two solutions when there are SO many CRM options? A few reasons:
Both SugarCRM and SageCRM offer easily-configured integrations that can be set up out-of-the-box quickly and cost-effectively.
You get a choice of deployment options – cloud, on-premise, or a hybrid of both.
Both solutions come with QuickStart implementation, meaning you get everything set up for one fixed price and it's easy and predictable.
What's the best option for you? Great question.
The best way to know is to work with an expert to find the best fit. Visit our website to get in touch with Brad or another one of our CRM experts to discuss your options.
Or test drive it yourself:
◦Free 7-day trial of SugarCRM
–
www.blytheco.com/sugarcrm
◦Free 30-day trial of SageCRM
–
www.blytheco.com/sagecrm
But note the free trials do not include integration, so you'll just get an idea of the CRM benefits alone.
We hope this was helpful – we'll be posting the entire recorded event on our website soon. Let us know if you would like a copy when it is released.