Sage Summit is always a time for exciting announcements, and Sage Summit 2015 has delivered especially exciting news: Sage has announced Sage Live, new technology developed on the Salesforce platform, along with details of features, pricing, etc.
What is Sage Live?
Sage says it's a way to manage your business anywhere, anytime, quickly and easily with the devices you carry with you: your smartphone, smartwatch, iPad, etc. Announcing the new solution, Sage said: "running your company is now as easy as checking Twitter!"
Yesterday at Sage Summit, Sage partners were treated to a first look at Sage Live. One Sage employee tweeted in response to the announcement:
Checking revenue on your iWatch. Assigning work orders on your mobile phone. Relaxing on vacation because you took care of business. That's #SageLive. http://sge.bz/1EA9u5R –@tomcga, Tom Cleveland, Director, HR Technology, Sage
Sage describes Sage Live as offering multiple benefits:
Reinvent the way you work
We've reinvented what it means to run a company by treating it as a collaborative, real-time network with real-time information, rather than a bureaucratic hierarchy full of meetings, circle-back meetings, status reports, check-ins, and more meetings.
Anytime, anywhere access
No matter where you are, run your business on your smartwatch, smartphone, tablet, or computer. Integrated scorecards ensure data from every part of your business is available whenever and wherever you need it. This is anytime, anywhere access at its best.
Move at the speed of thought
With real-time analytics, you can easily look at your complete business and spot trends in easy-to-read formats—without having to fixate on any individual number. Your employees, suppliers, customers, and accountants collaborate in real time, with social scoreboards letting everyone see, understand, and contribute to your business performance.
Momentum through collaboration
A shared workspace means that you and your colleagues can collaborate asynchronously. A persistent workspace means that previous notes and decisions aren't lost, so momentum isn't either.
During the presentation at Sage Summit, Sage partners saw how the new technology will be rolled out, how "scoreboard" screens will present information, and what pricing levels will be. You can see these slides below.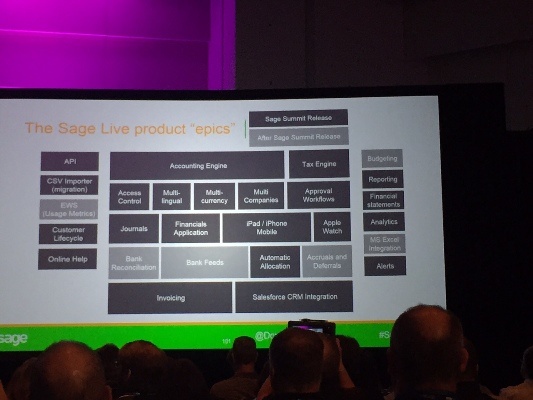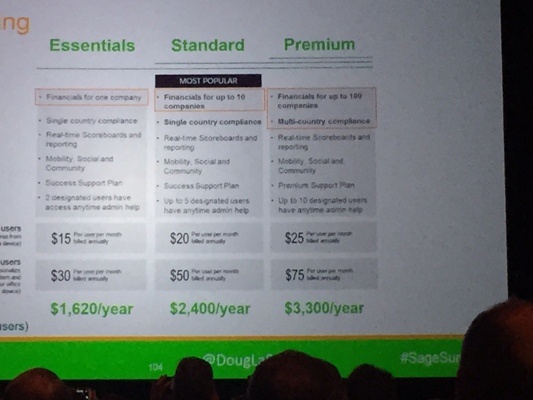 This new product, Sage says, will "make running your company as easy as updating your Facebook page so you can make smarter decisions, faster."
Sage says with Sage Live, it's time to "reimagine the business of doing business"
The website for the new technology says, "It's time for you to reimagine the business of doing business. You need a simpler way to run your business, so that staying on top of everything is as straight forward as updating your Facebook page. You need everyone in your business working on one collaborative real-time network that they can update wherever they are, from their smartwatches, smartphones and tablets. You need the confidence that comes with knowing everything, instantly so you can make faster and smarter decisions."
Sage Live reinvents the way you work by cutting out the delays, uncertainty, and wasted time, says Sage. It's built on the industry-leading Salesforce platform, augmented by real-time, comparative analysis of your company.
"It's real-time accounting and insight that you can take action on with colleagues, partners, and suppliers just like you do with friends and followers," according to the Sage website. "Critical business information is in a newsfeed for instant decisions, so you can move at the speed of thought."
Pricing for Sage Live will start at $15 per user per month for the "Essentials" package. Sage also announced that it will be offering a free trial to QuickBooks users to allow them to see the benefits first hand.
Want to see it in action? Watch the video now:
Want to discuss how this new technology can help you grow your business? Contact Blytheco today and we'll have one of our Sage software consultants help you.